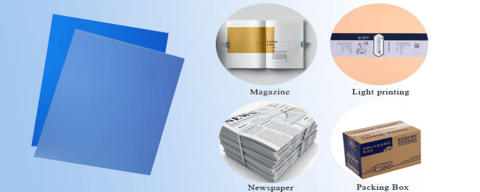 ①CTP direct plate-making technology has entered the era of thermal, violet laser CTP and CTcP "Three Kingdoms". Since the first CTP direct-to-plate making machine came out in 1995, thermal CTP technology has been leading CTP with high technical content, high plate-making quality, and technological innovation. In recent years, the purple laser CTP internal drum type has become a newcomer to CTP due to its simplified production, high-speed exposure, miniaturized imaging unit, and mature technology; CTcP uses the traditional Ps plate, which has a low overall cost and is compatible with the original pre-press of the printing factory. The equipment is connected and emerges suddenly.
②Customers need to become the driving force behind a single CTP device moving toward a fully digital workflow. A systematic and comprehensive solution, which can realize printing and proofing in any link of production, allows high requirements such as last-minute modification, is conducive to eliminating the influence of human factors, facilitates digital transmission of information, and facilitates rapid discovery and resolution of problems, to ensure the efficiency and safety of the entire system.
③ Prepress equipment resources are shared. One RIP, multiple outputs, the production efficiency and technical level are improved, and the compatibility and mixed operation of file formats between multiple systems can be easily realized.
④ CTP equipment with replaceable light source technology. In the situation of diversification of CTP light sources and plate materials, replaceable light source technology will ensure that customers' investment in CTP equipment will not be affected by light source changes.
⑤ Meet the increasingly stringent printing production requirements. It will further adapt to the requirements of high-speed output, diversified specifications, and automatic processing. At the same time, the printing durability will be greatly improved, and it can meet the printing requirements of high-definition color printing dots and other aspects.
⑥The CTP workflow will be further specialized for different market segments. For example, for the printing of books and periodicals, it will focus on the powerful book typesetting function, the function of accurately and safely processing double-byte Chinese characters, high-quality printing effect, high printing plate durability, and adapting to uv printing, etc.; for newspaper printing, it will adapt to the timeliness of publishing To meet the specific requirements, highlight the ultra-high production efficiency of the plate-setting machine and the ultra-stability of the system operation, accurately and safely handle double-byte Chinese functions, and smooth data exchange functions with the front-end editing system; for packaging printing, it will focus on the high stability of the printing plate and easy preservation, strong uv
Printing adaptability to meet the requirements of ultra-large-format outer packaging plate-making, etc.; for commercial printing and plate output centers, it will meet its large-format, high-quality and high-efficiency requirements, and ensure the openness, compatibility, and high speed of the data processing process to meet fast Obtain high-quality printing effect requirements, etc.
⑦The match between CTP and digital proofing is becoming more and more important. Such as remote proofing, screen soft proofing, digital proofing, etc., so that customers can preview the digital printing effect in time.
Huida Print-All Technology company is an advanced and professional manufacturer of producing printing plates, mainly selling CTP, CTCP, and PS plates as well as offering ODM/OEMs, especially for the offset. For more information, please click the official website link here: https://www.huidaoffsetplate.com/.